Intenship
PM Swamitva Yojana 2023 | E-GramSwaraj App, Online Registration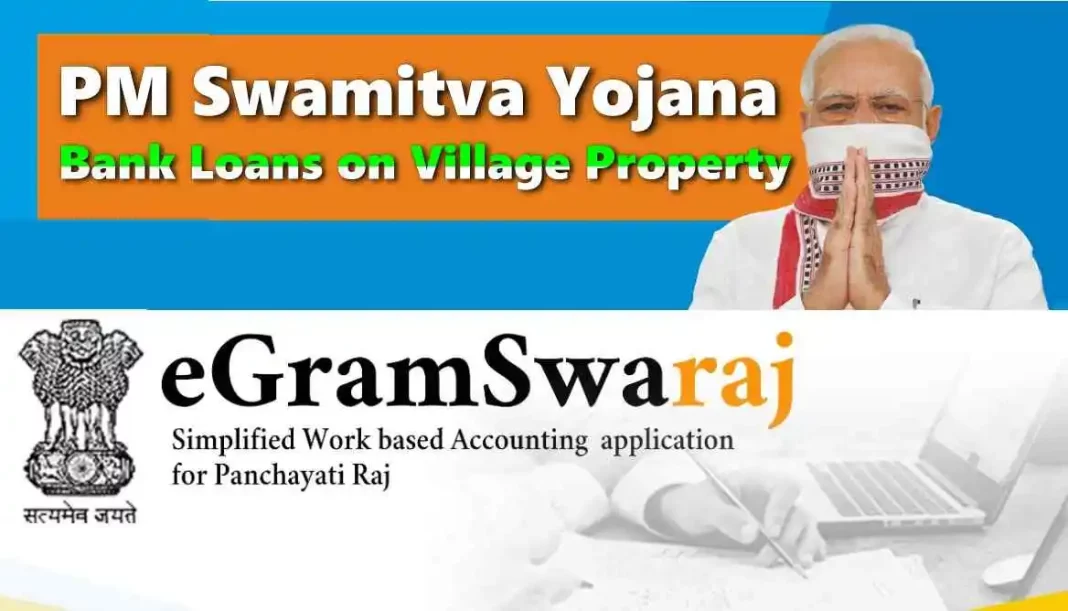 PM Swamitva Yojana 2023 | E-GramSwaraj App, Benefits, Eligibility: Our Prime Minister Narendra Modi noted the impact of Swamitva Yojna in the 6 states where it was launched within just one year. Under the scheme, the entire village properties are surveyed by drone, and property cards are distributed to the owners. And today 4.09 lakh people were given such e- property cards in more than 5 thousand villages. By checking this article, you will have an idea about the E-Gram Swaraj Portal App/ Pradhan Mantri Swamitva Yojana. This app is introduced on National Panchayati Raj Diwas.
And, we have presented the full details of the Pradhan Mantri Svamitva Yojana here in this article. To mark this occasion of National Panchayati Raj Diwas Prime Minister has launched a unified e-GramSwaraj portal and a mobile app. The Scheme has infused new confidence in the villages as property documents terminate the uncertainty and reduce the chances of property disputes while rescuing the poor from exploitation and corruption.
PM Swamitva Yojana 2023 – Overview
| | |
| --- | --- |
| Name of the Scheme | SVAMITVA (Survey of Villages and Mapping with Improvised Technology in Village Areas) |
| Name Of the Application | e-Gram Swaraj Mobile App |
| Announced by | Prime Minister, Shri Narendra Modi |
| Launched on | 24th April 2021 |
| Sector of the Scheme | Central Sector |
| Category | Govt Schemes |
| Number of Property Owners | 4.09 lakh |
| E-GramSwaraj Portal App | egramswaraj.gov.in |
| Purpose of the App | To apply the latest surveying methods |
| Official Website | svamitva.nic.in or www.socialsudit.gov.in |
About Swamitva Scheme
SVAMITVA, a Central Sector Scheme of the Ministry of Panchayati Raj was nation-wide launched by the Hon'ble Prime Minister on National Panchayati Raj Day, 24th April 2021 after the successful completion of the pilot phase of the scheme (2020-2021) in 9 states. Moreover, this scheme is a reformative step towards the establishment of clear ownership of property in rural inhabited (Abadi) areas, by mapping land parcels using drone technology and providing a 'Record of Rights' to village household owners with the issuance of legal ownership cards (Property cards/ Title deeds) to the property owners.
The Scheme is implemented with the collaborative efforts of the Ministry of Panchayati Raj, State Revenue Department, State Panchayati Raj Department, and Survey of India. The scheme covers multifarious aspects viz. facilitating monetization of properties and enabling bank loans; reducing property-related disputes; comprehensive village-level planning would be the stepping-stone towards achieving Gram Swaraj in the true sense and making rural India Atmanirbhar.
PM Swamitva Yojana Eligibility Criteria
Candidate must be a native member of India.
Users must belong to the rural area.
Four Identified broad areas of Impact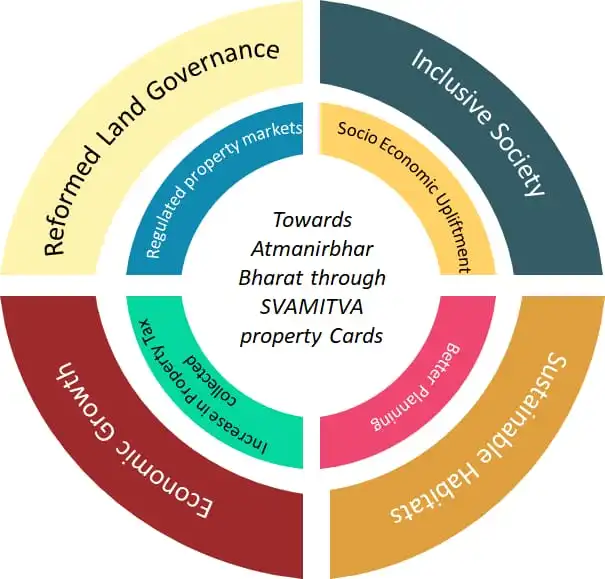 Objectives of PM Swamitva Yojana 2023
The scheme seeks to achieve the following objectives:
Creation of accurate land records for rural planning and reducing property-related disputes.
Determination of property tax, which would accrue to the GPs directly in States where it is devolved or else, add to the State exchequer.
To bring financial stability to the citizens in rural India by enabling them to use their property as a financial asset for taking loans and other financial benefits.
Creation of survey infrastructure and GIS maps that can be leveraged by any department for their use.
To support in the preparation of a better-quality Gram Panchayat Development Plan (GPDP) by making use of GIS maps
Benefits of Pradhan Mantri Svamitva Yojana 2023
The maximum benefit of Pradhan Mantri Swamitva Yojana will be to settle land disputes.
Now the beneficiaries of rural districts will also be able to get loans from any bank very easily.
All the land will be taken care of under drone mapping.
Pradhan Mantri Swamitva Yojana has been started in 6 states of the country, but by 2024 the benefit of Swamitva Yojana will be extended to all the villages of the country.
All the records of the land will now be able to be checked online by the owners of the land through their mobile.
Five years ago when the Pradhan Mantri Swamitva Yojana was launched by the Government of India, 100 Gram Panchayats were covered under Broadband.
But now 1.32 lakh gram panchayats have been included under the internet together.
e-Gram Sawaraj/ PM Swamitva Yojana Structure
Here are the 6th different types of life cycle pursuits that can be done through the mobile app. Here have a look at the life cycles:
Finance and Accounting
Program reporting
Grama Panchayat Profiling
Action Plan Creation
Geo Tagging of asset
Activity Output
e-Gram Swaraj App Download Process
For those who are willing to download the e-Gram Swaraj App, candidates have to follow the below instructions.
Open the Google Play Store/ App Store on your mobile.
In the search box, enter 'e-GramSwaraj'.
After entering it, you will be able to see the app information.
Once you find the accurate application, then click on the Download option.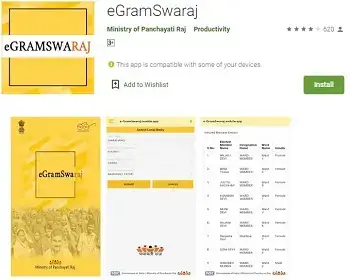 PM Swamitva E-GramSwaraj App – Download Link
Direct Link for E-GramSwaraj App Download
Click Here
PM Swamitva Yojana Online Registration
Candidates can apply online by checking the below given link.
Pradhan Mantri Svamitva Yojana Apply – Important Links
Direct Link for PM Svamitva Yojana Online Registration
Click Here
To get more updates on Pradhan Mantri Svamitva Yojana/ PM Swamitva Scheme, candidates have to keep in touch on our site @ freshersnow.com.